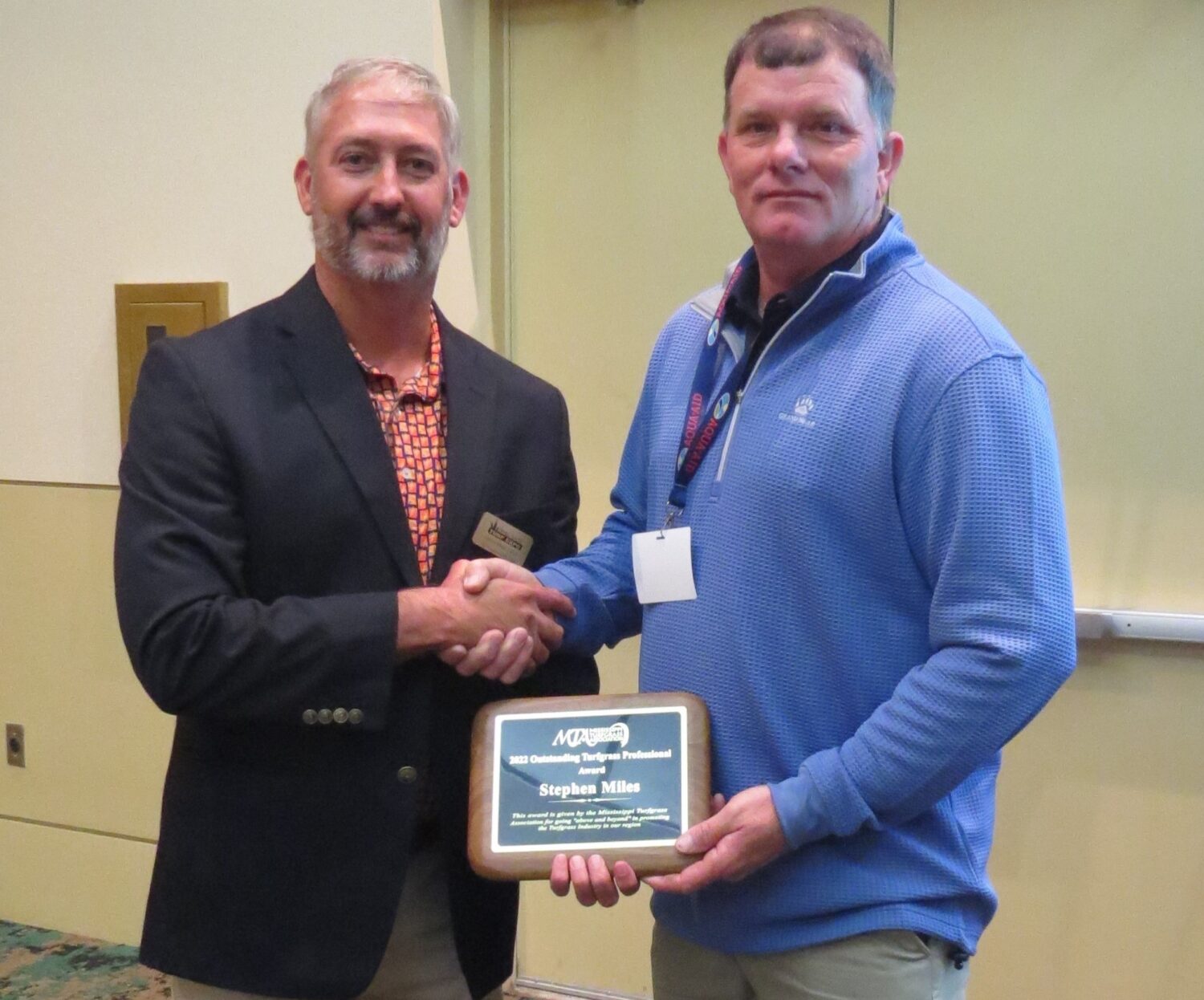 Stephen Miles, Direktur Operasi di The Preserve Golf Club dianugerahi Penghargaan Profesional Turf Luar Biasa untuk tahun 2022 oleh Asosiasi Turfgrass Mississippi (MTA.). Alan Sullivan, Presiden MTA, memberikan penghargaan kepada Stephen atas kepemimpinannya yang luar biasa di industri ini.
Miles dan Pengawas Lapangan Golfnya, Jeremy Stephens, didukung oleh seluruh staf lapangan di The Preserve Golf Club, memastikan lapangan selalu dalam kondisi bersih. Stephen, seorang pengawas lapangan golf bersertifikat, lulus dari Program Manajemen Rumput Golf & Olahraga Mississippi State University pada tahun 1998. Ia menjabat sebagai Presiden MTA pada tahun 2009, selain bertugas di dewan direksi dan banyak komite MTA. Miles telah lama berdedikasi pada industri rumput dan MTA dan berperan penting dalam membangun Praktik Manajemen Terbaik di Mississippi.
TENTANG KLUB GOLF PRESERVE
Preserve Golf Club, berlokasi di Vancleave, Mississippi, delapan belas lubang "golf murni" yang dirancang oleh arsitek lapangan golf pemenang penghargaan Jerry Pate. Tata letak kejuaraan par-71 yang luar biasa telah diberikan keanggotaan pada Program Tanda Tangan Internasional Audubon atas komitmennya terhadap lingkungan. Lapangan golf meliputi 245 hektar yang dikelilingi oleh 1800 hektar tambahan dari konservasi alam yang tidak terganggu. Tim desain dan manajemen lapangan golf telah mengintegrasikan lingkungan asli yang meliputi rawa tanaman kantong semar, rawa cemara, sabana pinus berdaun panjang, magnolia teluk manis, dan padang rumput asli.
Klub Golf Preserve menawarkan lima set tee yang akan menantang pemain paling mahir namun memungkinkan pemain pemula untuk menikmati putaran mereka. Dengan layanan pelanggan yang unggul dan kondisi lapangan yang tiada bandingnya, The Preserve Golf Club pasti akan menjadi pengalaman golf yang tak terlupakan. Untuk informasi lebih lanjut, hubungi 877.MSGOLF9 atau kunjungi www.PreserveGC.com.
Toko Pop Up Natal
30 September 2020
$51,498 Dimenangkan oleh Penduduk Alabama
1 Oktober 2019
Buku Balapan Pertama di Gulf Coast Dibuka
16 April 2019